"Fabulous food! Wonderful service! Best place I could have spent my birthday lunch!"
Linda H.
"We ordered one of the family meals tonight along with soup and an appetizer. The food was amazing and the cost was extremely reasonable for the amount of food. It fed my family of six with leftovers. This is one of my favorite restaurants."
Carla P.
"I love this place! Always good food and a comfortable atmosphere!"
Samantha W.
"My favorite place to eat! Love Thursday's prime rib night."
Mary B.
"This is my favorite Des Moines restaurant. The ravioli is excellent and I recommend the pepper steak and chicken amaggio. "
Matthew H.
"My family and I eat at Baratta's at least once per week! The staff is super friendly and the owners, Lisa and Joe, treat you like family. Always a fun atmosphere and excellent food. We have used their catering service on multiple occasions. We will be lifelong customers of Baratta's!"
Nikkole S.
"It is by far the best place to go for amazing food and an old school atmosphere."
Jenny R.
"Probably the best Italian restaurant in town. Love this place!"
Nicholas P.
"Five-star all the way. Food is always good, staff is always friendly. They are very good about making accommodations for my father-in-law who is in a wheelchair. Great work guys, it's always appreciated."
Melissa F.
"If you love old school neighborhood Italian, this is your place!"
Al W.
"Love, love, love this restaurant! Best food ever! I've tried about everything they serve."
KDL
"I can't tell you how much I love this restaurant. It's a family favorite of ours and we all love it! It might be in a not-often-visited part of Des Moines, but once you are inside, you feel like you're in the Bronx, thanks to the unfussy decor, AMAZING service, and truly excellent red sauce. I loved everything I tried here, but am especially partial to the chicken parmesan. We also can't resist the chocolate cake. Can't wait to go back!"
Lucy
"My wife and I come here every year for our anniversary. We call ahead of time and let them know we are coming and they take excellent care of us. The food is amazing, delectable, and filling! I would recommend this place to anyone I know."
J.
"We love this restaurant. It's quiet and cozy. The staff are always great! The food is excellent."
Evelyn K.
"Had my daughters sweet 16 surprise birthday party at Baratta's. Lisa was so accommodating to my guests. They took great care of our cake, the food was great as always. Many of our guests had never been to Baratta's. They will be back"
Janna K.
"This is a great small intimate venue for dinner. Their menu is inclusive of simple inexpensive items and extravagant expensive items. Everything is homemade and received from local distributors. I have been eating at this restaurant for over 15 years and I have never had a bad or sub-par meal. The staff has always been welcoming and attentive. We dine here on our anniversary every year, and we had our wedding reception here as well. We were treated so well on our wedding day and I was so grateful for all the staff that helped us. They can get busy so there is a wait at times, however I've never waited more than 30 minutes for a table. Their red sauce is a little on the peppery side which gives it a slight kick, but it is so very good and I can't handle spicy (hot) food. Give this place a try and you'll be happy you did!"
Kim J.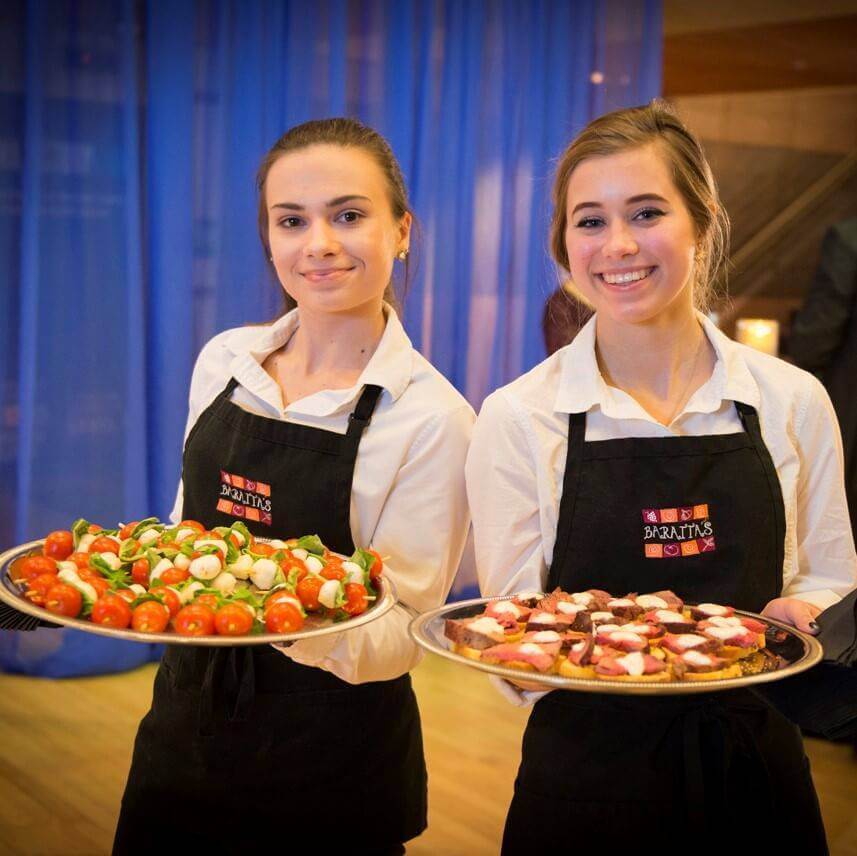 "I absolutely loved having Baratta's cater my daughters wedding. 2020 was a very interesting time to try and plan a wedding. Nick was very patient with all my questions and assured me they would make it work no matter what happened. The food was amazing, we ended up getting the cake and appetizers from them as well. Super friendly staff, professional servers, helping and an all around amazing experience. Highly recommend."
Nikki N.
"I have used Baratta's and Forte for several events, and I am most happy to have the chance to tell everyone what a wonderful experience our family has had with them each and every time. We recently had our son's wedding reception at Forte, during the 2020 pandemic. . .a month filled with changes . . . they provided excellent service during the worst of times. . . I can't even say enough nice things about Nick, who understood exactly what we wanted and made it happen. The evening was seamless and he provided everything we asked for and more! He made it look so easy, and we were able to have the most stress-free night!!! He coordinated everything flawlessly, even discussed decorations with the wedding planner! I will recommend Baratta's and Forte EVERY TIME someone asks. . . . the food, the service, the venue. . . EVERYTHING WAS PERFECT!​"
Julie H.
"Our guests were impressed with the venue and food. Your personal attention was most appreciated as well. Thank you for all you did to make Annie and Shane's wedding a success."
Brenda M.
"The food was FABULOUS. Everyone we talked to commented on how great it was! Very classy setup and staff. Good selection for the menu."
Kerri & Matt
"Baratta's did a wonderful job catering our wedding reception. The food was excellent and the staff kept things running smoothly. Lora and Nick were both great to work with."
Liz
"Working with Lora was the easiest part of our wedding planning. Before our initial meeting we were concerned Baratta's would pressure us into adding on extras we didn't want. That couldn't have been further from the truth. Lora was very understanding of our desire to keep it small and went way above and beyond just providing catering services. Since we didn't have a wedding planner, she provided tips and feedback based on her experience in the industry, and she was available for any questions we had during the planning process. The food and the staff on our wedding day were top notch. We couldn't have hoped for a better experience with a caterer."
Ashley E.
"Thank you for all of your great work (and staff) for our wedding reception. Not only was the food delicious, but your staff was so professional and kind. Our guests all enjoyed the meal and service. You were so helpful to us and we loved your calm and sincere personality. Thank you for making our special day so wonderful." –
Candice & David
"My husband and I recently used Baratta's to cater our wedding and we had a great experience! Lora was wonderful to work with every step of the way and we cannot say enough good things about her. The food was amazing and our guests raved about it. The staff was friendly and the service was great. We would highly recommend Baratta's to anyone."
Laura S.
"We were so happy with how everything turned out at our wedding, thanks to you and your staff! Everyone was great and went above and beyond our expectations. Even before the ceremony, your staff was there making sure I didn't need anything and telling me how beautiful everything looked. The food was absolutely amazing and everyone was so impressed and amazed at how polite and helpful your staff was. Thank you so much for helping our special day be perfect!"
Ryan & Lacey
"The service staff the day of the wedding were fabulous—extremely professional and helpful. The food turned out great and we received compliments such as "best food I've had at a wedding." They also provide a lot of additional assistance if needed when finding other vendors, plus they provide linens, place settings, etc., which helps save on time and money!"
Rachel
"We loved the service and great hospitality we received when they hosted our big event and will certainly look to use them again in the future and would recommend you do the same."
Brett
"Forte was the perfect venue for our daughter's wedding! Nick and the rest of the staff were great to work with from beginning to end. They ran the reception seamlessly and we were able to enjoy the evening and not worry about anything! I would highly recommend Forte!"
Carol
"Nick was quick, professional, and overall a pleasure to work with. He was flexible and worked with me to make sure everything was ready and in place for my banquet. All the attendees were impressed and the space and service were great! I would recommend this venue to everyone!
Cassie
"Our family and friends really liked the food, atmosphere and everything. We recommend Nick Speck, Forte, and Baratta's for a special event."
Sol
"Nick was great to work with and he did everything in his power to make the event run smoothly. We will definitely be working with Baratta's Forte again in the future."
Christopher
"We used Baratta's for our wedding reception. We had our reception at Forté and we couldn't have been happier. Nick was so great to work with. He made the process so easy and stress-free. After touring a handful of venues around the Des Moines area, Nick was by far the best one we interacted with. He is one of the main reasons we chose to have our reception at Forté. The food and service at our wedding reception was amazing and everybody raved about it. We couldn't be happier that we chose to have our wedding reception with Baratta's at Forté!
Samantha E.
"Lora and her staff were exceptional for our wedding caterer. The food was amazing and the entire team was professional and warm. Lora took the time to answer all my questions via email. Her being so available and receptive made planning a wedding from out-of-state significantly less stressful. I would highly recommend them for your catering needs!"
Madison M.
"Your food and staff was above remarkable!"
Jillian
"I cannot recommend Nick and his crew at Baratta's enough for anyone looking for a great time. Nick was incredible throughout the entire process of planning our wedding, despite having to postpone due to COVID. He made everything so easy for us, and we had so much fun along the way! The food was also AMAZING, everyone absolutely loved it. Thank you for everything, my husband and I would not want to host our special day with anyone else!!"
Mackenzie V.
"Forte has beautiful views of downtown! Although it's large enough to host many friends and family, it has a very warm and inviting feel. We worked with Nick, who answered all our questions, calmed our nerves, and offered many creative solutions for our vision. We would highly recommend Forte for your wedding….we received countless comments on how beautiful everything looked and we couldn't be happier!"
Diane
"I wanted to reach out and let you know that everything was phenomenal that Baratta's provided! Everyone loved the food, and inquired who the caterer was while saying this is definitely not your typical wedding meal! It was delicious! Even your staff was very friendly and easy to work with. Thank you for being part of our son's wedding!"
Charmaine V.
"I can't begin to express my delight with Lora and her crew! They were outstanding to work with, worked well with our other vendors, and were very accommodating for some of our special requests! The food was delicious and beautifully presented. I would highly recommend them!"
Jane
"Baratta's catered our outdoor wedding reception and did a fantastic job for a reasonable price. The food was delicious and many of our guests told us how much they enjoyed it. They're very professional and great to work with leading up to the wedding. Highly recommend!"
Jaime L.
"Baratta's catered my wedding recently and it was AMAZING! My whole head table had plates made for them and served right to them. Staff was super-friendly and made sure everything was perfect the whole night! Had so much food, my family and I are going to be eating it for what seems like forever! So happy that I chose Baratta's to do my wedding. HIGHLY recommend."
Emily H.
"I couldn't have asked for more delicious food or service on the evening of our private event! Everything was so good! Our guests raved about the catering. Thanks to Michelle, who seamlessly guided me through my options and explained every detail of our service and delivery. If you're looking for a wow factor, I would highly suggest Baratta's!"
Cynthia S.
Host an Event at Baratta's
If you're interested in hosting your next event at any one of our locations or have a location in mind already, please contact Lora Simpson at (515)281-4658 or [email protected].